Here are some holiday displays you won't want to miss! Wherever you live, surely one of these is close to you…and if not, please leave a comment to share what YOUR family enjoys doing!
Marshall's Wonderland of Lights
November 22-December 31
A feature city in the annual Trail of Lights that reaches through the Pineywoods into northern Louisiana, the Wonderland of Lights in Marshall, Texas is the granddaddy of them all!
Crowned with over 10 million lights, you can also enjoy the outdoor ice skating rink, catch a ride on the Holly Trolly, Wonderland Express or the beautifully restored vintage 1948 Herschel carousel. Then pay a visit to the brand new Santa's Village for cookies, train building and photos. Or maybe you'd like to bundle up and enjoy a horse-drawn carriage ride on one of three carriages through Historic Downtown Marshall, then grab your dancing partner and listen to live music at Telegraph Park downtown performed by local musicians, area churches and school choirs.
The display closes Christmas Eve and Christmas day, but opens again through New Year's Eve.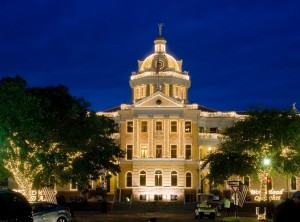 Historic San Antonio
November 18-January 6
During the holidays the San Antonio River Walk and historic district shine brighter than ever.  Beginning November 18, the campus of the University of Incarnate Word sparkles with millions of lights for their "Light the Way" drive-through display. And this year, on New Year's Eve, you can help kick off the city's Tricentennial Celebration.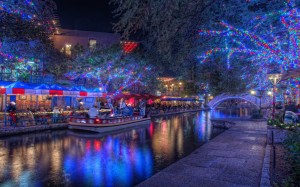 Salado Christmas Stroll
December 1-3 and 8-10
In Central Texas, Christmas doesn't get much twinklier than at the Salado Christmas Stroll in historic Salado, Texas. Historic stagecoach stop, ruins of one of the first colleges in Texas, unique shops, great food, carolers and carriage rides … there's so much to do in this quaint little village! You might take in their historic home tour, catch a performance of A Christmas Carol, or celebrate Christmas on the Farm to benefit a great cause.  The event kicks off this year with a Christmas Parade beginning at 6:00 pm on Thursday, November 30.

Galveston's Dickens on the Strand
December 1-3
If you've been hoping to make a trip to Galveston, consider going during their annual Dickens on the Strand event December 5-7. More focused on British history than Texas history, the event is still a ton of fun, and there's plenty of Texas history on display all around you while you're there.
Texas Tech University's Candlelight at the Ranch
December 8-9
Candlelight at the Ranch, an annual event at the National Ranching Heritage Center on Texas Tech University campus in Lubbock, captures the traditional spirit of a pioneer Christmas. From 6:30-9 each evening, step back in time as you walk along paths lit with luminarias. Enjoy the songs cowboys might have shared around a campfire on the open prairie over a century ago. Or warm up with hot cider and fresh popcorn as historical interpreters trim the tree with homemade decorations.
The event is free, but donations to are welcome.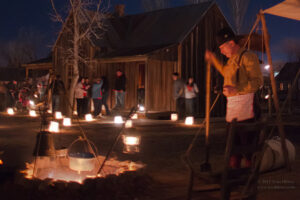 Burnet's Main Street Bethlehem
December 1-3 and 8-10
This Christmas, visit Bethlehem right here in Texas as the ancient city of Christ's birth is re-enacted by members of First Baptist Church two blocks off main street in Burnet from 6-9 pm.
Feel the expectancy of this miraculous night as you pick your way through travelers, peddlers, and villagers along with camels, donkeys, sheep, and goats. Explore the narrow streets to faint strains of ancient music and savor the smells of fresh goat butter, campfires, and hot bread. Then immerse yourself in the din of the marketplace; the revelers in the tavern, shouted insults to and from the Roman oppressors, merchants, craftspeople, taxpayers, and beggars all seeking money, or position, or revenge. Then search for the inn, only to find it full (as others did long ago), and follow the trail to the cave where a road-weary couple has moved in with the animals.