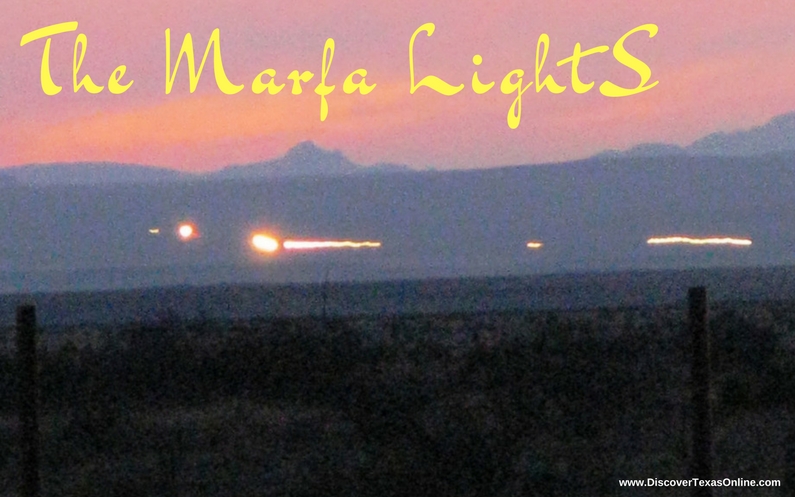 While we're on the topic of unexplained light phenomena, the Marfa Lights have been kept Texans guessing for even longer than the Saratoga Lights.
Native Americans saw the lights and thought they were fallen stars.
They do look a bit like stars, twinkling in the twilight, but unlike stars the glowing orbs that appear in the desert sky just outside the West Texas town of Marfa not only hover but move, merge, split up, and dart across the Mitchell Flat leaving burning trails behind them. Sometimes white, and sometimes red, yellow, or blue, the Marfa lights appear roughly the size of pumpkins.
In 1883 cowboy Robert Reed Ellison was driving cattle through the region when he observed lights flickering near dusk. He assumed what he saw was the light from Apache campfires, but no ashes were ever found.
I first heard of the Marfa lights from my parents. My mother often told me that while she was a student at Sul Ross University in Alpine she used to drive out with friends to watch for the lights, which only appear a few times a year with no apparent pattern.
There are several possible scientific explanations for the Marfa Lights:
They could be caused by light refracting between layers of air at different temperatures to produce a type of mirage.
They could be caused by escaping phosphine or methane gas related to the natural oil and gas reserves that lay beneath much of west Texas.
They might also be the product of a piezoelectric charge–a type of electricity created when solid matter such as the igneous rock of the region is placed under great pressure.
So far there are many theories, but no proven explanation for the dancing dessert lights at Marfa, Texas.