We interrupt this regularly scheduled field trip summary to bring you a special rant because some things just have to be said! 😉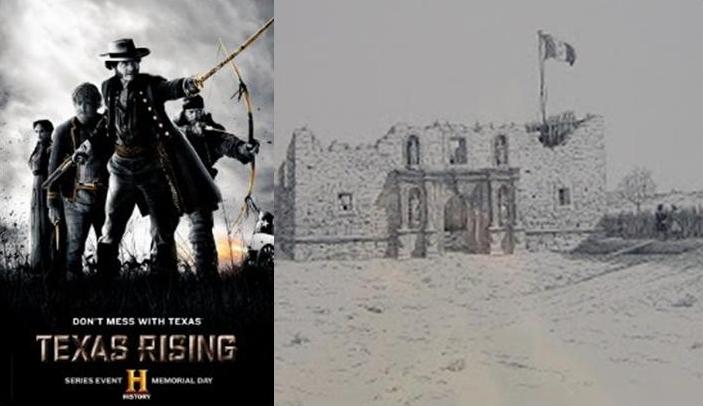 On our last date night, my husband picked up a copy of Texas Rising at the book store and thoroughly enjoyed the first several chapters. When we first saw the trailers for the History channel mini-series , we were excited! (I know that won't surprise anyone, since it's sorta what we do around here.) I mean, History channel, right? But as I scrolled through the schedule to set the DVR, I should have taken a clue from the channel's regular offerings: Swamp People, "Pickers", Pawn Stars, Pawnography, UFO Files, Ancient Aliens…so far there's not much to imply that their usual programming is very A) historical or B) accurate. So perhaps I should not have been surprised or disappointed to find that, at times, the commercials featuring a talking horse or the Geico gecko are more believable that the History channel's version of this book.
Only 20 minutes into the first episode I had hastily scribbled a full page of points to verify and refute, but a day later I am feeling a bit more gracious. Instead of the Texas-style barbeque I had originally planned to roast and grill this Hollywood fable, I've found enough good points and "negotiables" to play Win, Lose, or Draw instead.
Let's start off before the first scene. The first screen declared the date to be "March 7, 1836"–the day after the Battle of the Alamo–and showed the aftermath of the slaughter with bodies still lying about and thrown into a pit. As I recalled the story, Santa Anna had the Texians' corpses stacked and burned the evening after the battle. Indeed, Texas A&M's excellent website, Alamo de Paras, ends their summary of March 6, 1836 with:
"An act of war became a slaughter. It was over in minutes.
According to one of Santa Anna's officers, the Mexican army overwhelmed and captured a small group of defenders. According to this officer, Crockett was among them. The prisoners were brought before Santa Anna where General Castrillón asked for mercy on their behalf. Santa Anna instead answered with a "gesture of indignation" and ordered their execution. Nearby officers who had not taken part in the assault fell upon the helpless men with their swords. One Mexican officer noted in his journal that: "Though tortured before they were killed, these unfortunates died without complaining and without humiliating themselves before their torturers."
Santa Anna ordered Alcalde Francisco Ruiz to gather firewood from the surrounding countryside and in alternating layers of wood and bodies the dead were stacked.
At 5:00 O'clock in the evening the pyres were lit."
And the official Alamo website would tend to support that timeline as well. "Day 13: March 6, 1836/Santa Anna orders the bodies of the slain defenders burned."
Ha! (Note choice of text color to note the things that "made me see red".) Triumph! I win!
BUT…
An article also published by Texas A&M University quotes an account written by Francisco Antonio Ruiz, who was the alcalde or mayor of San Antonio at the time of the battle, which was originally published in the Texas Almanac in 1860. He writes:
"Santa Anna, after the Mexicans were taken out, ordered wood to be brought to burn the bodies of the Texans. He sent a company of dragoons with me to bring wood and dry branches from the neighboring forests. About 3 o'clock in the afternoon of the next day they commenced laying wood and dry branches upon which a file of dead bodies were placed, more wood was piled on them and another file brought, and in this manner all were arranged in layers. Kindling wood was distributed through the pile and at 8 o'clock it was lighted."
According to this eyewitness account, the funeral pyres were indeed lit on March 7th, the day AFTER the battle. I was also interested to learn that during the siege Alcalde Ruiz had been held under house arrest by Santa Anna, who did not trust him…for good reason. Ruiz's father, Don (Colonel) Jose Francisco Ruiz, was one of the signers of Texas' Declaration of Independence.
So…since we have a credible primary source testimony, the first round would appear to go to Texas Rising even though tradition has held otherwise.
However…the bodies were stacked intermittently with layers of wood, not thrown into a pit, and the fires were not lit until late evening, not already smoldering by mid-afternoon. So you can call this one a draw if you want to. 😉